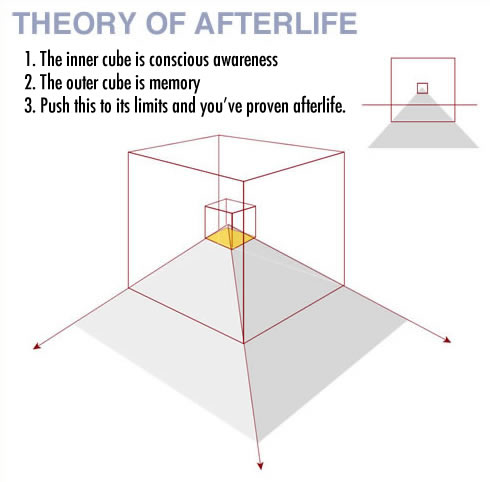 Life is be here now. Life is also be everywhere forever. We are both - all the time. The "be here now" part is consciousness. The "be everywhere forever" part is memory. Memory and consciousness are tied together mathematically: memory is consciousness of another dimension. We'll prove it, right here on the site. When you see how this single, elegant, irrefutable mathematical law works afterlife is proven consequently. The law of memory, consciousness, and dimension holds true for all living things.
Memory is Consciousness of Another Dimension is a fundamental law of physics. It's as real and profound as Newton's laws or Einstein's laws. The answer to afterlife doesn't lie in the outside world. It lies within. It stems from the fact that memory records everything.
You can't discount this theory if you don't read it. If you do read it you'll understand because it's true. The best way to understand it is to start by reading "Proof of Afterlife By Geometry." This proof sets a good foundation for the work to come. Memory is Consciousness of Another Dimension is a concept that takes some getting used to. It's somewhat like nesting folders inside of folders. It's a new approach to understanding life. Once you see it you'll become an enlightened person. You will also truly understand afterlife. You'll understand it not because of what I say. You'll understand it because you can see it work. We don't have to go through death to see what lies up ahead. It's obvious. Don't wait. Start now. Click Proof of Afterlife by Geometry and take your first step toward enlightenment!
I. Abstract
Theory Of Afterlife is organized into seven sections. You can access each section by clicking the corresponding tab above. Each of the five proofs is an independent proof requiring no information from the others. They all lead to the same conclusion however. It is important to approach afterlife from these five perspectives to provide a full and complete picture of how afterlife works:
1. Introduction provides an overview of the theory, orienting the reader to the concept of memory and how it works in life and again in afterlife.
2. Proof By Birth looks at the mathematical formula of being born at the beginning of life. Then it takes that same mathematical formula and applies it again at the end of life. Finally it proves afterlife by defining what happens to life when it goes through the same mathematical change that occurred at birth.
3. Proof By Awareness shows how the human mind operates in diminished capacity during life. Then it shows how awareness could possibly open up. Finally it proves afterlife by defining what happens when awareness opens up to its fullest extent.
4. Proof By Memory shows how the human mind absorbs reality into the mind by comparing it to a digital camera absorbing a scene. Then it shows how these scenes are filed away in long term memory. Then it shows how awareness is free to jump around in time within memory. Finally it proves afterlife by showing how awareness could conceivably open up throughout time.
5. Proof By Information draws a comparison between memory in a computer and memory in the mind. We show how memory is built from logic gates and how information can be stored in a matrix. Then it draws a comparison between a computer processor and awareness. Finally it proves afterlife by showing how memory is unaffected when power is turned off.
6. Proof By Geometry uses the concept of Euclidean Geometry to explain the relationship between awareness and memory. We use a pyramid to show how memory and awareness are inverses of each other. It uses the geometric definitions of point, space, and time to create a picture of life. Finally it proves afterlife by creating a visual illustration of what happens at the end of life.
7. Conclusion provides three verifiable test cases that provide evidence for this theory. These evidential cases are Hyperthymestic Syndrome, Out Of Body Experience (OBE), and Near Death Experience (NDE). While the theory does not require evidence for proof, it is important to see these things exist in our environment.
The General Theory Of Afterlife is an illustrated piece. There are over 50 illustrations to clarify each major point. I hope that you enjoy reading it as much as I enjoyed writing it. I have made every effort to present this theory factually without imposing my personal feelings. It is just a different way of looking at the human experience. I hope that it is received with the same love and respect that is offered.
II. With Humility and Respect
Most theories of physics deal in abstract concepts. The information presented in most theories is generally not offensive generally. Theories are usually entered into public record without evoking strong personal feelings by readers. Afterlife is highly emotional topic. I understand that. I offer this material simply for your review with the understanding that I believe it to be true. I am not trying to affect or alter anyone's views on the subject of afterlife. I merely want to enter this material into public record. Were I never to bring it into public light it would be lost forever as I am not young. My goal is state this point of view factually with as few adjectives as possible.
I offer this material with trepidation. I offer it to contribute to our collective understanding of what happens at the end of life. Any insight on the subject is important to know, especially now as our world is becoming crowded. I stand before you with humility. I seek no attention for myself. I honor and respect all religions of the world including Islam, Christianity, Hinduism, Buddhism, and others. This material supports existing beliefs about afterlife. I hope it contributes to our collective knowledge of afterlife in a positive way.
III. Reality And Memory
Reality and memory are tied together. To explain what I mean let me ask this question:
What do you think is the outer limit of the space around you?
Immediately we conjure up thoughts of outer space, stars, and the ever-expanding universe. We think of the outer limits of space as the universe around us all. We look to the outside world to find the answer to the outer limits of space.
Looking out into the environment to find the outer limit of space is correct, however there is another way to see it:
The outer limit of the space around you is your memory.
What a ridiculous statement! How can this possibly be true? What does memory have to do with surrounding space?
Before dismissing the concept of surrounding space as memory, let me explain this further. We humans see reality and memory as two completely different things. The conventional way to view reality and memory is as follows:
1. Reality is the outside world. It is the world we live in.

2. Memory is inside our mind. Memory is our thoughts that exist inside us.
The conclusion is that reality is outside and memory is inside. That is our conventional view of life.
I want to question that basic concept of life with this idea:
What if memory extends forward in time up to and including the present moment?
This diagram below illustrates what I mean.