The Fourth Proof: Proof Of Afterlife By Memory
It was winter, early in 1970. The first three proofs, Awareness, Birth, and Geometry were developed in the summer and fall of 1969. At the time I attended the University of Michigan. I managed to cobble together B- grade point average for my first freshman term. As my interest in afterlife intensified, my interest in school waned. My attendance got worse. Finally, after missing three consecutive math classes, I realized I had no idea what the professor was talking about. I had to drop out. I had no choice. I was too far behind.

I didn't put school first. The University of Michigan is a tough school. A lot of people don't make it when they focus on the classroom. If you don't focus on the classroom you have no chance. Afterlife was my primary focus. I knew this was real. It is impossible to focus on something else when you know what happens at the end of life, especially when no one knows about it.
So I decided to devote myself full time to the pursuit of afterlife. It sounds more glamorous than it is. I was young. I had no life experience. I had some vague notion of writing a book, lecturing, or a combination of the two. That was a fantasy. The reality was I had no money, no job, and no prospects. Meanwhile my father was a raging alcoholic that hated me on sight. So I had no home either. This wasn't a good foundation for much of anything.
I was young. I thought it would be OK. I made plans to move to East Lansing (the home of Michigan State University). I had a friend there. Other than that the city was an arbitrary decision. To me it was the first step in a long journey. It didn't work out that way.
My friend rented the house. He was enrolled for winter term of 1970. During the previous summer we had worked together as camp counselors in up state Michigan. Summer camp was a fun time. Northern Michigan was beautiful. There were young men and women on the staff. We had a blast.
In Lansing all of that was gone. He lived with his parents and rarely came to the house. I had no friends. As much fun as we had during the summer, it was the opposite in the winter. I was lonely. This was the first time I experienced life without friends. It was a dark time.
Still I clung to the idea of afterlife like a bit bull. I wouldn't let it go. I decided to take a fourth trip. I would do this alone, only this time I would have a tape recorder. I would record the entire experience from beginning to end. Looking back on this, fifty years later, I can't believe I did this. It was dangerous. On the other side, it was courageous. The tape recorder insured I wouldn't miss anything. It wasn't pleasant but it was effective.
I still have the transcript after all these years. Here's an excerpt, about two hours into the trip, while I was surrounded by complex hallucinations. Everything said while "under the influence" is in red.
Humm… It's really a mind thing.
What is going down in my head and what's going down on that tape recorder are two completely different things. There's on hundred percent in my head and one hundredth of one percent on the tape recorder.
I thought I heard somebody out there… Wait a minute… The traffic has slowed down enough so that one car goes down the street I have a tendency to build it way up out of proportion.
Oh, my mind. This was an insane thing to do. An insane thing to do… I hope everyone appreciates me putting my head on the line because that is exactly what I did.
Oh… I am one high dude, man.
I wish I could be totally sure that no one was going to walk in.
This room is just so damned complicated, like trying to hit the moon ten years ago. Just shooting out into space.
Oh wow, I look up at the wall and it is on a weird angle. It reaqlly does. It looks like it is on a weird angle.
Eight hours I'm going to be like this. Eight hours!
I am definitely messed up. Messed up I the head and I mean just the head.
Oh my God. There are hallucinations all over the place.
Wow. They're just all over the walls (pause).
You are insane boy.
I don't know what I'm going to do. I'm just looking out. I don't even like to close my eyes. I hate to admit it but I'm getting to that point… now what's the point?
Oh yes. I hate to admit it but I'm getting too high.
(Long pause)
They're gone! The hallucinations are gone!

These hallucinations that seemed, YES!!! These hallucinations that seemed so complicated before seem trivial now (There is a long period of silence).
That is mellow! That is mellow!!!
Wow! That is the type of thinking that is going to make me see this thing. See? It is mind thinking. Yes. Mellow. Man, mellow, mellow, mellow, mellow, mellow.
Hum. I mean… I can't even remember what I….. That was like a big deal to me and I don't every remember it. Part of this confusion I guess… I don't know.
(Long pause)
This is mellow man. You're actually experiencing dimension. I know that know, but I still don't know how it works. Wham, it's there. Then it's gone.
Complications and dimension. It is a whole different way of looking at it. Look at the question of dimension through complications… Wow, that's really strange. There is a definite parallel. Let me try to get it again in my mind. Yea, and I can see it work. I like back up in my mind. Back up. I'm like a single point and when you back up you absorb more than you normally can and that is dimension.
Bingo! That says it all. That is a word for word transcription, while high, from 50 years ago. Do you see what just happened? This is a first hand account of afterlife being handed down from the heavens. There is no mistaking it. I am imparting this knowledge, from fifty years ago while hallucinating, that my mind is like a single point during life. When overwhelmed with complications, it suddenly it backs up in space and absorbs the environment in total. The hallucinations, that were huge to a mind that was a point, are trivial to the mind that is now space. The mind changed dimension, right here. You can hear it on the tape. That's the answer, right there.
At this point I take out the papers that I'd written during proof three, Proof Of Afterlife By Geometry. I was still very high. Here's what was said:
Complications…..
Whoaaaa! There is just so much going down. I am in a room, with nobody, and it is complicated. I mean COMPLICATED!!
This must be the paranoia. People try to get away from this. Ohhh.. COMPLEX!!
Oh, wait a minute. Wait a minute. I've got these things from my old trip. Yep, same kind of thoughts. Now that is even too high for me. Dimension I'm beginning to get some kind of conception of.
Now what I've done is I have stepped back in my mind and all these complications have become nothing. They've become trivia. And that is a dimension.
Wow… Let me see… I do feel a rapport with these papers. One high person to another.
Wow, that's really strange because these were my notes last time I put it together and they were a help to me. Le me read one of these things:
"MEMORY AND DIMENSION WORK TOGETHER AND THAT IS WHY THINGS BECOME MORE COMPLICATED"
Wait a minute. Memory and dimension work together and that's whey things become more complicated.
Wait a minute… Memory another dimension. That is a thought! That's just it. You can see it work. Let me explain it to you.

Memory and…. You can see your memory. It's strange.
I want to illustrate two key points from the transcript. The first key point is described in this statement:
They're gone! The hallucinations are gone! These hallucinations that seemed, YES!!! These hallucinations that seemed so complicated before seem trivial now.
We are witnessing this event as it happens. The hallucinations in the environment are building in complexity. They are becoming more intense. You can tell from the monologue I am becoming increasingly overwhelmed by confusion. At this time the apparitions are so thick and strong that I can't see a piece of paper to read it. Here is a visual approximation of the environment before the event:
Then, one moment later, I announce the hallucinations are gone. Notice the terms I used. I didn't say they disappeared. I said they are trivial. I describe this transition as going from complicated to trivial. This is a mind thing. Here is an approximation of the environment after the event had taken place.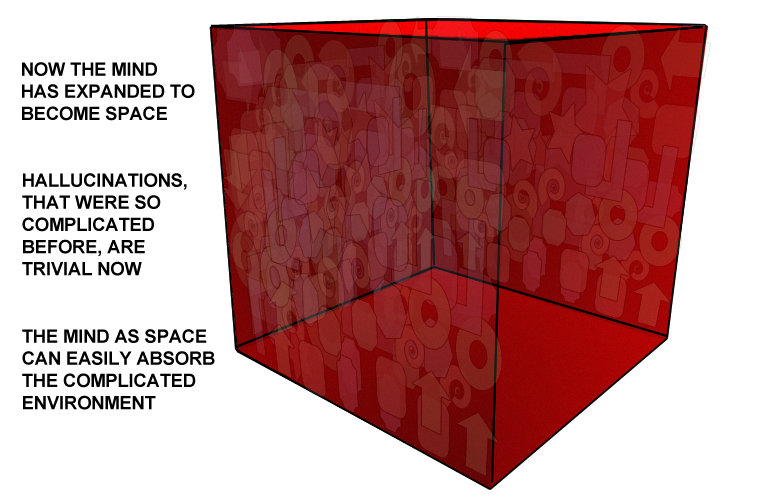 Notice how the hallucinations have become much smaller. They are less intense. From my perspective they've gone from complicated to trivial.
In one instant, hallucinations went from complicated to trivial. It isn't the hallucinations that changed. The hallucinations remained the same throughout. It is the MIND that changed. Before the event the mind was small (a point of view) at the center of the environment. After the event the mind was large (backing up as it increased in size). Hence, the hallucations that were complicated before are trivial now.
The mind became bigger. The hallucinations that were complicated to the small mind, are insignificant to the large mind. The large mind (which is now space) dwarf the hallucinations in size.
I make this point (of the mind as dimension) in this statement. This is too important to miss. This is the statement where I describe the mind making the transition from point to space:
Yea, and I can see it work. I like back up in my mind. Back up. I'm like a single point and when you back up you absorb more than you normally can and that is dimension.
It is this "backing up in my mind" that I want to get straight. That can mean a lot of things. We have to get this exactly right. To get it right, I want to illustrate the point.
This is before the event. The mind is represented as the red dot inside the head. I am sitting in the environment looking out. I describe this perfectly by saying, "I'm like a single point."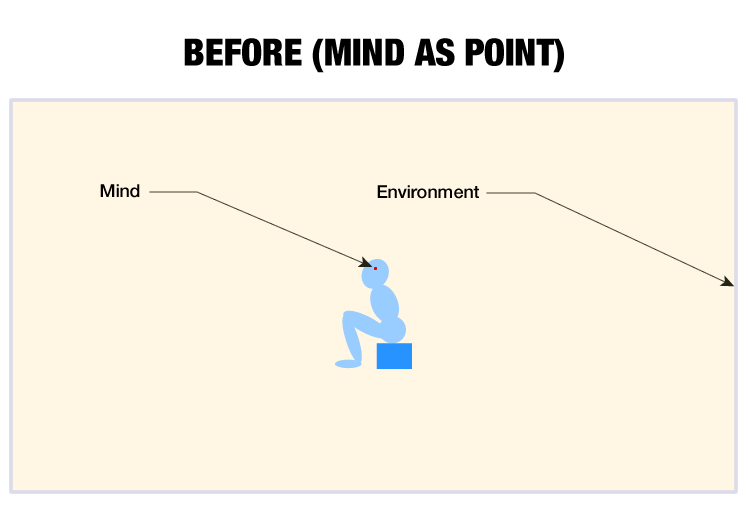 Then the change takes place and the mind transitions from a point to space.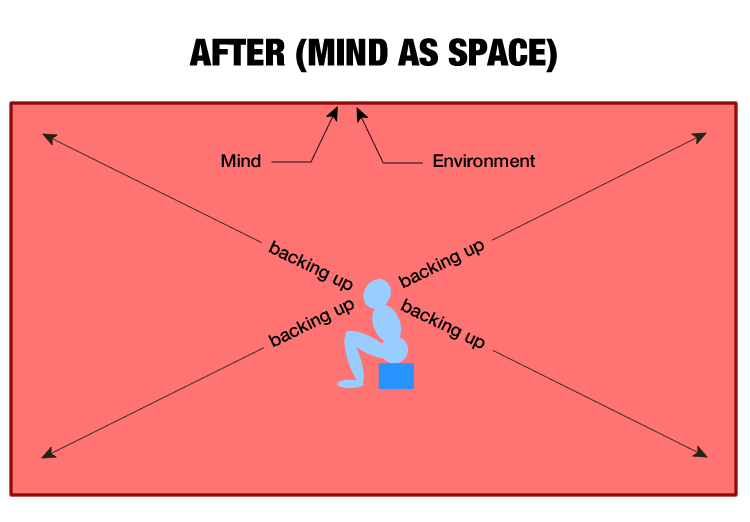 As an eyewitness account going through this transition I explain it like this, "I like back up in my mind. Back up. I'm like a single point and when you back up you absorb more than you normally can and that is dimension."
To be clear, backing up in my mind does not mean the point moves. It means the mind gets bigger. It backs up (grows) in all three dimensions as far as it can expand. It expands in length, width, and depth. It is a three dimensional expansion, starting from its center location, to the outer reaches of the environment.
This statement emphasizes the mind as space, "when you back up you absorb more than you normally can and that is dimension." Absorbing more than it normally can means the mind has expanded. The mind, in its new enlarged state, absorbs the environment in total. Dimension means surrounding space.
Here is another view of the mind backing up to become space. This is shown is four steps for clarity, but it happens in an instant.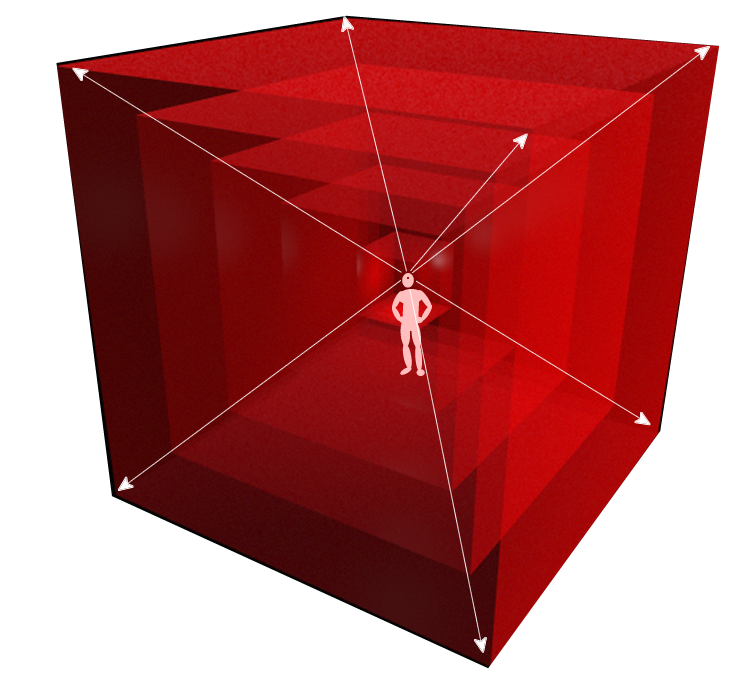 This is an attempt to show the mind expanding three dimensionally. The mind "backs up" in all three dimensions. When it does it can absorb the environment entirely. Proof four, Proof Of Afterlife By Memory, explains how the mind transitioning from point to space proves the Kingdom of Heaven and life everlasting.
---
I. Is The Human Mind Analog Or Digital?
1. The Difference Between Analog and Digital Recording
There is a fundamental difference between recording analog or digitally. Take sound for example. An analog recording is a vinyl record. A digital recording is in memory. An analog recording means imprinting the sound onto a medium. A vinyl album is recorded by pressing a stylus into a soft medium. The sound impulses are pressed into the medium. The stylus cuts one continuous groove in the medium, circling toward the center.
A digital recording uses a different technique. In a digital recording sound is converted into electrical impulses. These impulses are converted into numbers. The numbers are stored in computer memory.
To play back an analog recording we run the stylus down the continuous groove. This imparts a vibration in the stylus that gets amplified, to reproduce the sound. To play back a digital recording when read numbers from memory, convert them back into electrical impulses, and amplify them.
Audio purists claim the analog vinyl record has superior sound quality over a digital recording. The quality of a digital recording can be improved by upping the resolution of the recording. Increasing the resolution makes a digital recording indistinguishable from an analog recording.
One undeniable advantage of a digital recording, over an analog recording, is that it doesn't fade over time. Each time you play back a vinyl record the recording's groove gets slightly worn. When you play back a digital recording the numbers get read from memory. Nothing wears down. A digital recording, played 100 years from now, will be an exact copy of the original.
An analog recording is characterized by imprinting on media; such is vinyl for sound or photographic paper for sight. A digital recording is characterized by memory. This leads us to the fundamental question. Is the human mind analog or digital? To answer that question we need to take a close look at how we experience the environment by looking at this illustration: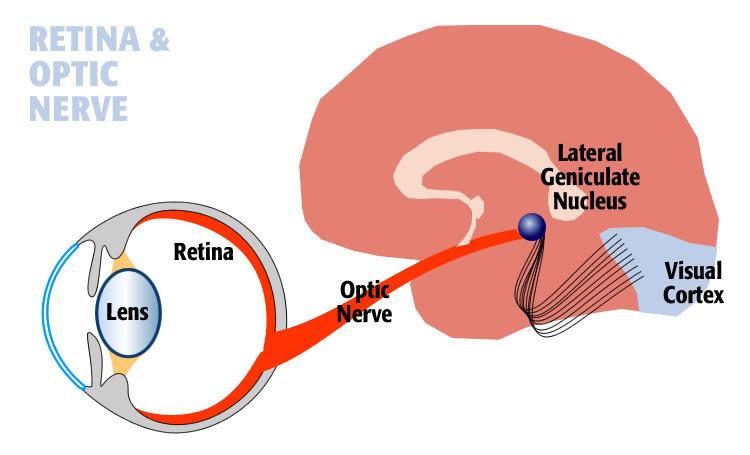 This illustration shows are fairly accurate representation of the human eye and brain. Light comes into the eye through the cornea, then through the lens, and finally onto the retina. In the retina light fires nerves. The impulses from nerves are sent through the optic nerve into the lateral geniculate nucleus in the brain. From there they are sent to the visual cortex. It is in the visual cortex that the outside world is manifested.
Note: We are using the example of perceiving the environment visually for clarity purposes. This does not imply that non-sighted people record any less information than sighted people. Nor does it mean that non-sighted people experience any less of the environment than sighted people. Non-sighted people experience the same richness of life as sighted people. They merely experience life in a different manner. It is however complete in every way.
2. Close Examination Of The Retina
The humans mind as digital becomes even more apparent when we take a close look at a section inside the retina of the eye: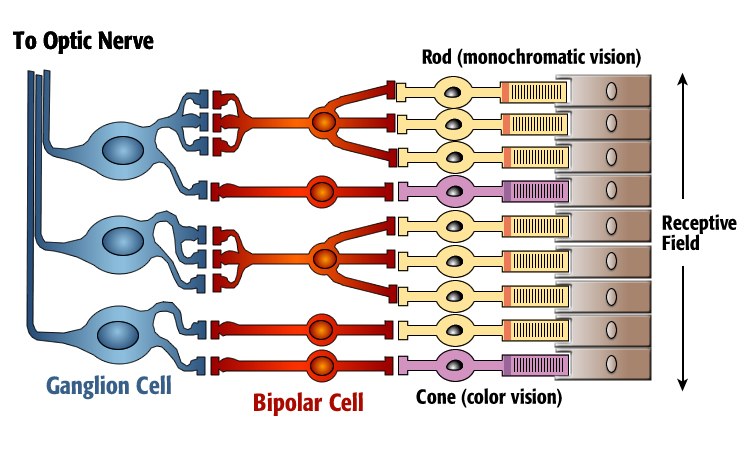 The receptive field shown above is where light hits the inside of our eye. Embedded in the receptive field are rod and cone cells. Rod cells (shown in yellow) detect monochromatic vision (black and white). Cone cells detect color. These nerves send impulses to the bipolar cells. There is some logic processing at the bipolar level. Then the output is sent to the ganglion cells where information is processed further. Then the data is sent out the optic nerve to the brain as shown here.
In the retina light and color gets converted into electrical impulses that are transmitted via nerves to the brain. This has a earmarks of a digital recording. What you do not see is the recording using up medium, such as vinyl or paper. What you do see if light and color being converted into electricity, then transmitted via wires so it can be stored memory.
3. Environment As A Digital Picture
The human mind uses digital recording techniques. Digital recording is made up of data stored in memory. A digital recording, when played back later, will be exactly the same as when it was recorded originally. It is information based. It is hardware independent. A digital recording retains its quality. It remains pristine regardless of time. Whether played today, or 1000 years from today, the recording will be identical. They are an exact bit-for-bit copy. Information, stored in computer memory, remains the same over time.
The human mind is digital in nature. While the world may feel analog, the evidence shows differently. When you look closely at the retina of the eye it is apparent that we are digital. The illustration below shows a section of the retina, at the cell level, converting the environment into electrical data impulses: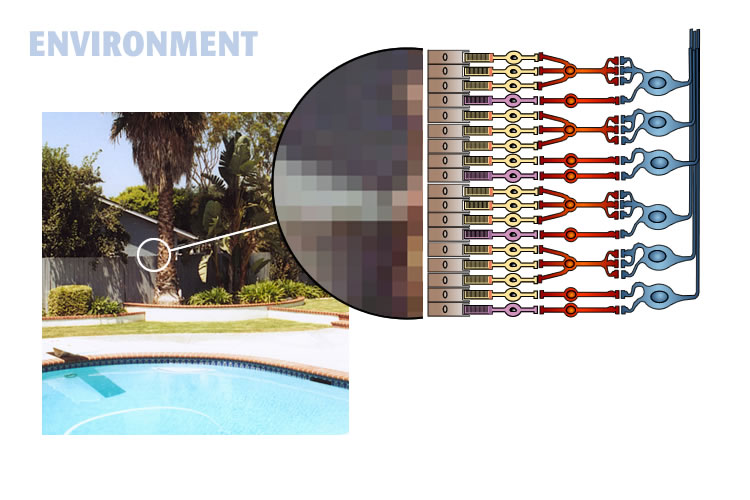 Imagine looking at your backyard pool. Your environment, upon close inspection, is made up of tiny dots or pixels as shown by the inset. Each square of color (in the inset) is actually one pixel. The color of that pixel is being picked up by cone and rod cells, processed digitally, and sent out the optical nerve to the brain. In the brain this information is assembled into your environment inside the visual cortex.
II. How Memory Captures Reality
1. Your Field Of Vision As A Digital Camera
Digital cameras capture images using a CCD (charged coupled device). The CCD is similar to the retina in our eyes. The CCD is represented by an array of small dots called pixels as shown below.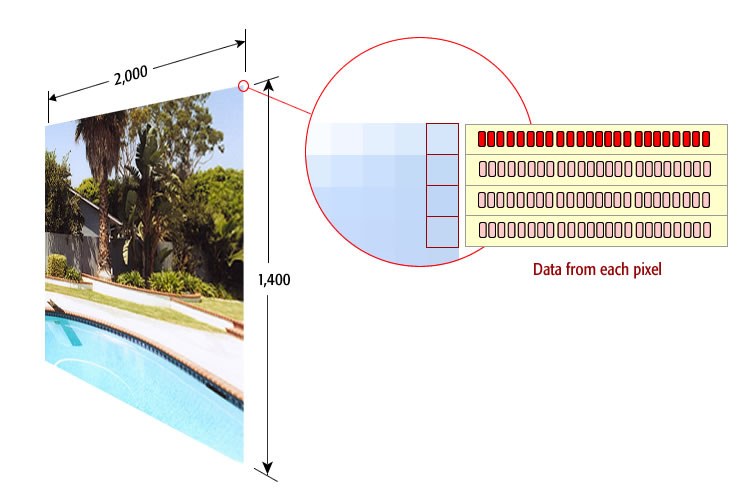 An image captured this way is called a raster image. A raster image is a series of dots arranged in columns and rows. A typical camera is made up of thousands of tiny colored dots. One square inch of the screen will be made up of 5,000 colored dots. The dots are so small and so close together that our eye actually blends them together to form a continuous tone photograph. The picture is nothing more than small colored dots arranged in columns and rows. If you looked at a camera CCD under a microscope you could see the array of tiny color dots. Shown above is a matrix that is 2000 pixels wide by 1400 pixels high. The inset shows the pixels at the upper right corner of the photo. In the inset are these corner pixels magnified. The first four pixels are marked by red box around each one. The color (hue and brightness) assigned to each of those four pixels is shown in yellow. Each of the four pixels has 16 bits of memory wired to it. Stored in that pixel's memory location is a 16-bit number that represents that color.
2. Absorbing Reality Into Memory
Imagine standing in this backyard looking at this garden. This is your surrounding environment. Shown here is what you see. The sun is shining. It is a nice day. You are enjoying the view. You can hear the birds chirping and kids playing.
The clock strikes 12:00 noon exactly.
The pixels in our eyes act like the camera CCD and capture the scene. The camera uses a capture program to take the matrix from the CCD into memory. Our eyes take in the pixel matrix of the environment and pass it to the visual cortex our brain. From there the environment gets captured into memory. Information is taken in through the eyes (and other senses as well) and is captured into memory just like a digital camera as shown here: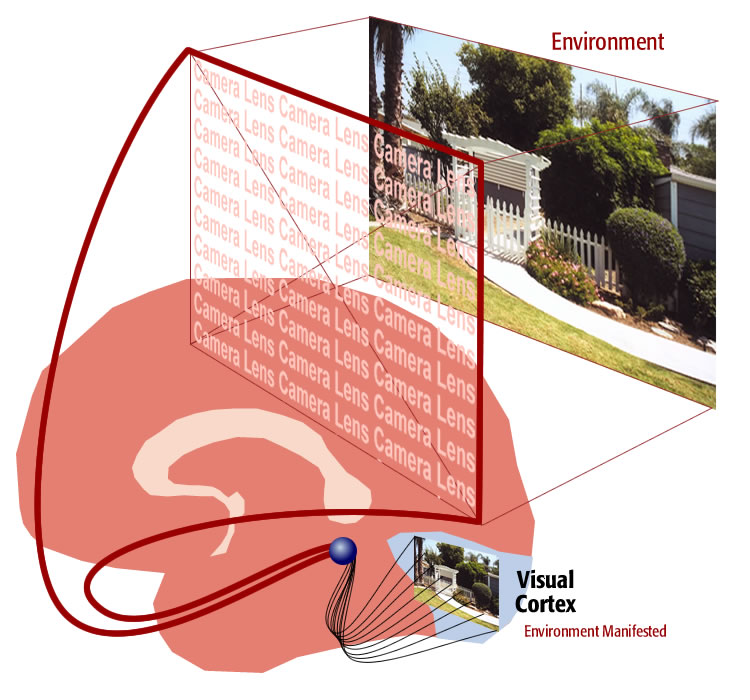 A digital camera takes a picture when you press the button. It is a one time event. Human memory is more like a digital video camera than a still camera. It takes pictures of reality continuously like a movie.
In the section above we looked at the pool at 12:00 noon and captured that reality into memory.
However, that was just one moment. The next moment we have a new environment.
3. Recording Reality As A Digital Movie
As we move through time, from environment to environment, moments get captured into the visual cortex. From there they get absorbed into memory. We are more than a digital camera. We are actually a digital video recorder capturing frames of video as we move through life. As reality unfolds before us we absorb it into memory as shown here: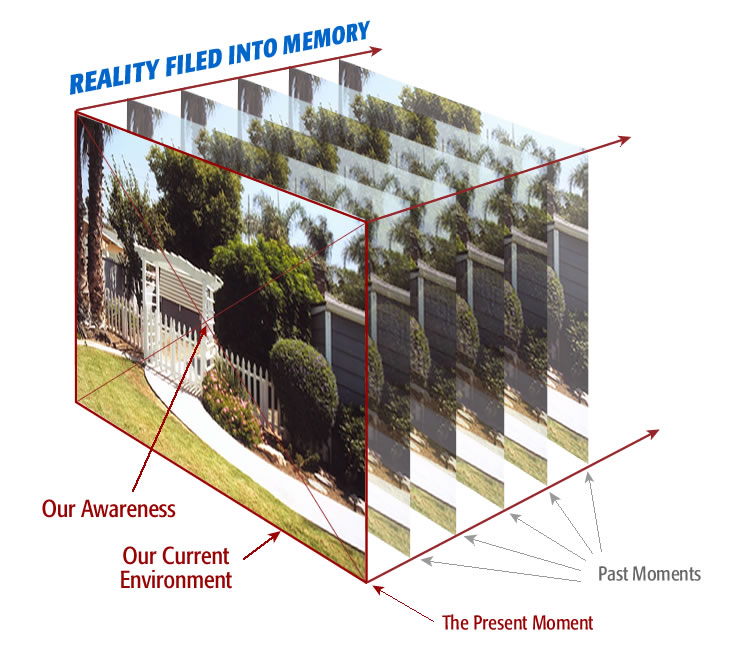 The frame on the left represents the present. This is our current reality. It is in the visual cortex. The horizontal line moving back (with arrows) to the right represents past realities being filed into memory. Awareness is at the center of the current environment. You are in the present moment looking at this garden gazebo.
Awareness stays in the present. Realities move progressively to the right as they get filed away. Think of these frames as new realities stacking into memory. The frames of the past move to the right. As time moves, memory absorbs new environments. The dimmed slices represent former present moments that have been filed away into memory.
---
III. Memory From Awareness Point Of View
1. Memory Absorbs Reality As It Upfolds
As realities stack into memory, awareness remains in the the present moment. Awareness stays in the present. This is our point of view throughout life. This illustration shows realities stacking into memory like frames of a video: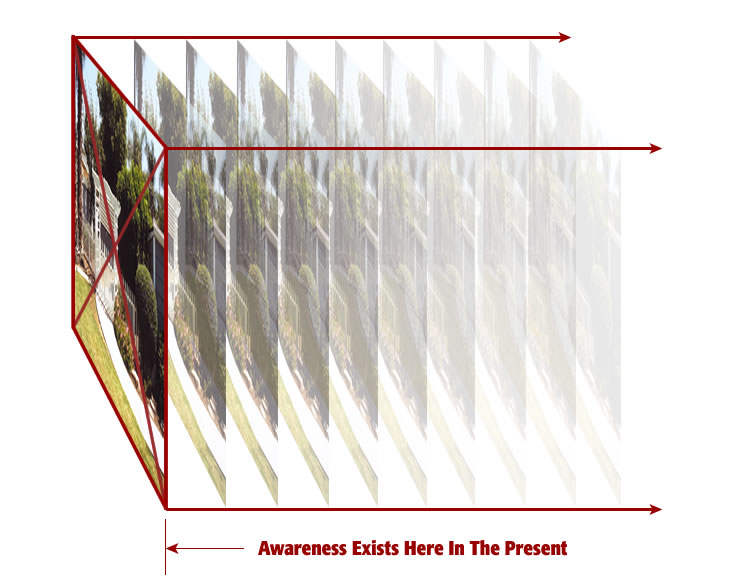 Reality (the environment around us now) is the present. It is where we are. It is vivid. The further we get away from reality the more memory appears to fade. This illustration above shows reality at 100 percent opacity, frame 2 at 50 percent opacity, frame 3 at 40 percent opacity. This is intended to signify how memories fade as we get further away from them in time.
2. The Difference Between Memory And Remembering
Memory fades over time. A memory of five minutes ago seems much different than reality. Reality is pristine. The memory of past reality is vague.
The human mind operates like a digital video camera, capturing bit-for-bit realities into memory. There is however, one important difference between the camera and our mind. The camera has a playback feature. The human mind does not.
So what you have is a human camera capturing scenes entirely as quickly as they unfold. These are all these perfect scenes filed away in memory, yet we have no ability to play them back. That means that reality, and the memory of reality, are identical in quality. It is our position in time that makes them appear to be different. When awareness sits in the present, the present is pristine. When awareness sat in a moment five minutes ago, that moment was pristine. There is no difference in quality between the two moments. Both exist, in infinite detail, within memory.
Thus, memory and remembering are two completely different things as follows.
Memory:
We tend to believe that our memory is here to serve us just to help get through life. Real memory is bigger than that. Memory is our huge cocoon surrounding our lives always. We are live inside our memory. Memory is the environment around you now and in the past. Every moment your have experienced from conception to now is in your memory intact. It is exactly as you experienced it the first time. The only difference is that you are not in that moment now. The difference in perception of a past moment is only a matter of perspective.
Remembering:
Remembering, on the other hand, is our ability to draw upon this huge reserve of perfect information. Remembering is like reading data from a hard disk into a computer program. As a programmer you open a file within your program, then read the data from that file into your program, and then close that data file. When we remember something from the past we are reading data from memory into the present moment. Remembering is fundamentally different than memory. Memory is the information reservoir. Remembering is the ability to draw from that reservoir.
In the human case memory contains everything. Human memory has captured every moment of your life in its entirety. Memory has retained all the moments of your life in perfect detail, exactly like you experienced them the first time.
Memory is perfect. Remembering is limited. This can be a difficult concept to understand because we do not experience our perfect memory during our lifetime. Our perfect memory will only be fully experienced at the end of life.
3. The Present As The Leading Edge Of A Time-Space Continuum
If we accept the premise that memory is perfect then everything changes. Sometimes in scientific thought you have to make an assumption and see what falls in place. The assumption ist that memory is a perfect bit-for-bit copy of reality. It does not fade over time. When you accept this assumption everything comes into focus.
In the digital world, copy does not apply. Copy is an analog concept. In the digital world there is the original and duplicates of the original. The duplicate is exactly the same as the original in every way. A copy connotes a diminished version of a pristine original. That is not the case in the digital world. The copy is identical. It is pristine as well.
Our awareness of our surroundings comes when the surroundings gets manifested inside the mind. This means that when you look at your surroundings, you are actually looking at your memory. Your memory is your surroundings. When you see your surroundings this way something magical happens. Your memory becomes your surrounding three dimensional space. It isn't that your memory is a copy of your three dimensional space. It is your three dimensional space. It is the outside world that is inconsequential. It is your memory that is important.
Memory as three dimensional space gives rise to another important concept.
If we accept that your current moment is already in the mind when it unfolds, it means the three dimensional space is inside the mind too. Another way to see it is that memory is three dimensional space. Memory is your surrounding space.
Memory is physically large. It is three dimensional space. The means the present moment, in all its detail, is the leading edge of a time-space continuum. Visually memory looks like this: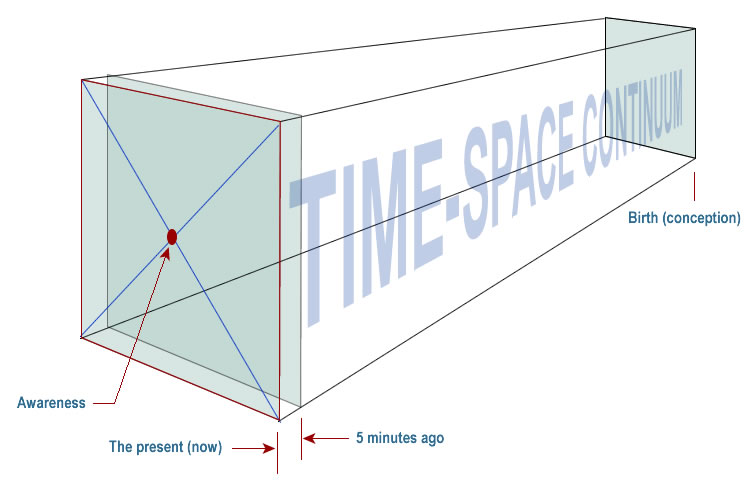 The present moment is already in memory the moment you experience it. It is digital. There is absolutely no reason to believe that a bit-for-bit copy of reality will fade over time. The present moment goes into memory as a perfect copy and it remains that way. Our awareness moves forward in time. That displacement in time makes it difficult to look back at past moments. That perception of a moment becoming old is just a perception. That "old" moment is in memory; intact, exactly bit-for-bit as it was the moment we experienced it.
This means in the present, we are sitting on the leading edge of a time-space continuum that includes all time and all space. Visually that looks like this: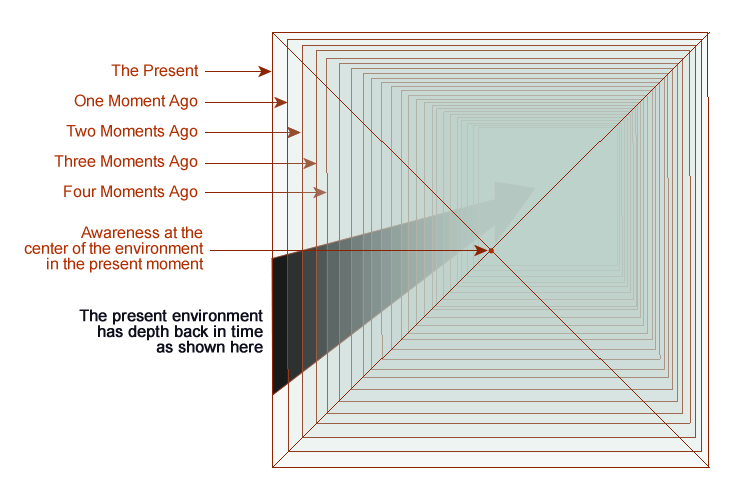 Memory is the key. Memory is what allows our mind to absorb a universe.
It is not an understatement to say that every individual (animals too) have an entire time space continuum within their mind. They are walking universes.
All that is required is that memory absorbs the present moment, which it does, and those memories remain perfect over time, which they do.
IV. Achieving Perfect Memory And Hardware Independence
1. Memory As Your Personal Universe
We have seen how reality gets absorbed into the visual cortex. As we move through life we are absorbing bit-for-bit copies of the current environment into the visual cortex. That is how we experience the surrounding environment as shown below: