Shown above are three drives in an XOR array. Then Drive Two fails. Here is how the computer handles the situation:
1. The computer detects that Drive Two has failed.
2. Drive Two is automatically removed. It is swapped out electronically.
3. Drive Two's backup is automatically installed in the array. It is swapped in electronically.
4. Drive Two's data is rebuilt by XOR'ing the data on Drives One and Three.
5. The result is written to the new Drive Two.
Memory is fully restored. New memory hardware is in place. This can be done logically. It requires no moving parts. Using a XOR system like this we can keep memory intact. Redundant memory hardware creates a robust system. Memory is not fragile. It can handle any mishap except for catastrophic failure of more than one drive. Here are a few things to consider:
1. An XOR memory array can take a severe hit to the hardware and not lose data. Memory repairs itself without moving parts.
2. XOR memory can recover data lost without warning. A Drive can suddenly go down and the system can recover. It essentially heals itself. Lost memory can be fully rebuilt from existing memory.
3. An XOR array works with any size data word and any number of drives greater than three. This means that we can protect a huge amount of data with very little additional hardware.
4. Humans spend one third of their life sleeping. XOR'ing data is the type of activity that takes place during sleep. Using an XOR array (or some variation of it) we are able to replace lost brain cells without affecting memory. A XOR system is capable of maintaining perfect memory throughout our lifetime by continuously replacing damaged hardware.
7. Dreams
To those of us that making a living as system administrators, our biggest fear is losing our client's data. A good system administrator will take steps to insure that no data is lost. It is not enough to merely monitor the situation. You have to build measures into your network.
On my local computer I use a technique called Time Machine. Time Machine works in the background, making copies of everything I do, so the machine can be rebuilt should the primary drive fail. On my network I use a technique called Rsync. Rsync makes a copy of all files on another computer nightly.
Additionally, you need to introduce new hardware into the network from time to time. A new computer will last about five to ten years. It is a lot of work to build a new server, transfer everything onto it, and configure it so it all works correctly. However, if you expect perfect data over decades it is absolutely necessary.
Is it possible to have perfect data over a 100 year life span? The answer is yes, providing you use memory techniques similar to those above. This is where dreams come in. The human mind is a data-absorbing machine. It takes in each moment as it happens and files it away in memory. For this to happen over a lifetime without ever dropping a bit, you would expect to see nightly maintenance. Dreams are necessary data maintenance taking place. If the mind were to take in each moment, file it in memory, and leave it, it would fail. Instead the mind takes in each moment during the day, then performs data integrity maintenance during the night.
Dreams are to the mind what the system administrator is to the network. Dreams do the necessary tasks, basically moving and organizing data, to see to it that memory remains perfect over decades.
V. Digital Video Editing Analogy
1. Recording Digitally Into Memory
In sports, video taping the game is a training aid. In American football for example, coaches record every play in the game. After the game they can review what happened and use that information to improve their coaching of the team. Games are routinely recorded directly into computer memory.
Recording digitally into memory means taking the information from the video camera's CCD and putting it into memory. This is essentially a bit-for-bit transfer of the information from the camera into memory as shown here: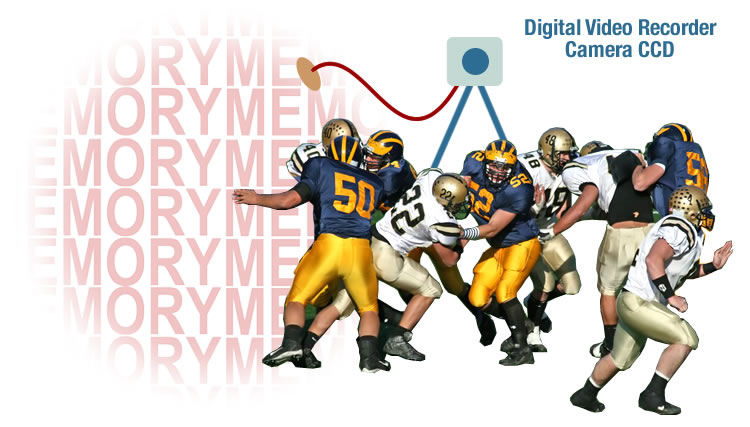 After the game you have every play recorded into memory.
2. Video Playback
As a coach, you gather your team and go back through the plays of the game to see where you can improve performance. Here you and your team are looking at a play near the middle of the game as shown: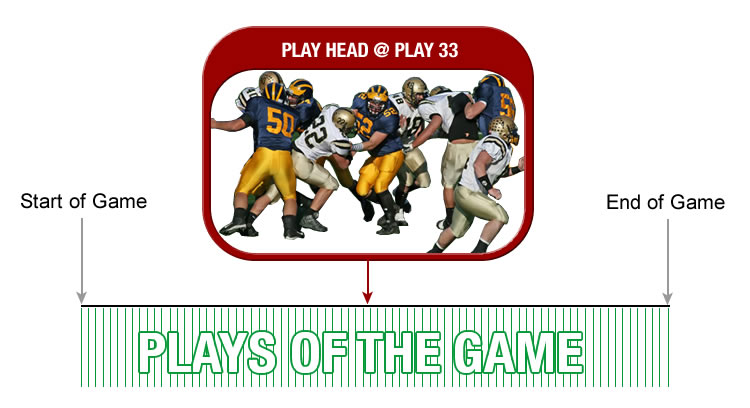 Most often you start playback from the beginning of the game. However, starting at the beginning is an arbitrary decision. When video is recorded digitally the play head is free to jump around throughout the game. You can playback play 2, jump to play 33, and then jump to play 14. There is no pause between plays. Movement of the play head throughout the game is instantaneous.
The play head above acts like awareness in life. The play head is where the action is. If you are watching play 14 awareness is at play 14.The play head within the football game acts like our awareness within life. During life awareness stays in the present. In digital video, awareness is free to move around through time. The quality of playback is the same wherever you are throughout the game.
3. Two Simultaneous Play Heads
Our video machine has only one play head. Therefore it is never in two places at once. It can move around but at any one moment it is located at one specific moment within the game. Awareness in life is located in time as well. Our play head of awareness is always located in the present. It is located at one specific moment and that moment is now.
The present and the play head are essentially the same. The present is both the recording head and playback head. In the life we record reality and experience reality at the same time. Our hardware is such that the play back head remains locked into the present.
Imagine constructing a video editing system that has the ability to have the play head at TWO locations simultaneously. Now instead of experiencing only one play we can experience two plays simultaneously. Our enhanced video system can now show two moments in time at the same time. Visually that would look like this: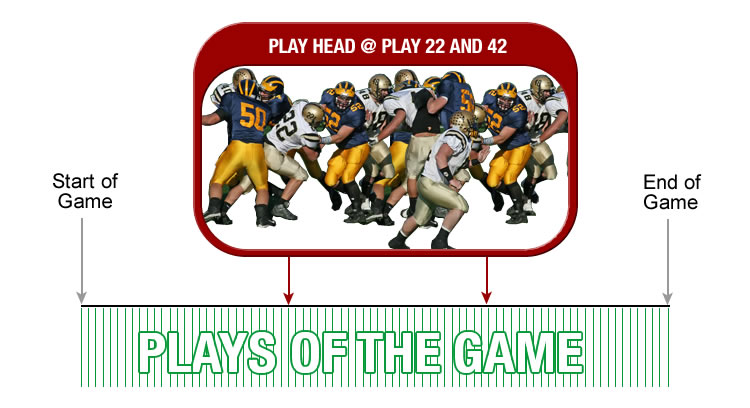 We are now playing back play 22 in the first half and play 42 halfway in the second half simultaneously. Playing back two moments at the same time presents problems obviously. Originally we experienced one play at a time. Now we are experiencing both plays. Unfortunately the two plays are superimposed on each other on the same monitor as shown above. Experiencing two plays overlapping each other is a jumbled mess. It does us no good. It is too complicated to comprehend.
To see both plays clearly we need to add a second monitor. That way we can experience play 22 on one monitor and experience play 42 on the other monitor. To fully realize our new system we need two people, each watching their own play. Everyone is comfortable and chaos is eliminated as shown here: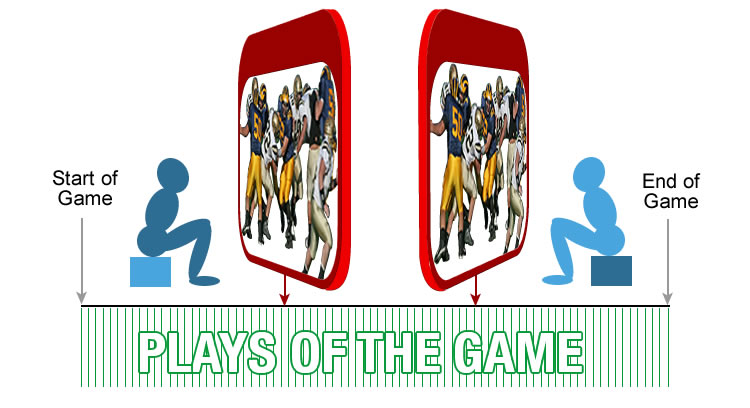 In the original system we have one play head. Now we have two. We also have added a second person to watch the second play.
Adding the second monitor and second person represents an opening of awareness. The new system is capable of experiencing two plays simultaneously. Awareness has opened up to twice what it was originally. The system is showing two plays now were formally it was showing just one. To fully understand both plays we doubled awareness by adding the second person.
During life, our play back head is the present. We watch the play of life as it unfolds. If we were able to add a second play head and monitor like our new system above, it would be like adding a second present moment to our life. Not only would we experience the moment we are in, we would also experience another moment from the past. Each moment would be of equal importance as we experience both fully.
Our original play back system above attempted to show two plays through the same monitor. The result was two plays superimposed on each other in a chaotic mess. Players were stacked on top of each other, all going in all directions. It simply made no sense.
In like manner if we attempted to play back a second moment into the present the result would be the same. We would have the present reality with a reality of the past superimposed on it. Like the plays of the football game it would not make sense. It would be a chaotic mess. To make sense of two moments experienced simultaneously we need to add a second person. Exactly like the play back machine above, we cannot make sense of two moments until we add a second monitor and person to experience the second play.
Adding the second person exactly doubles awareness. Before we had one person watching. Now we have two. This is an opening of awareness of exactly double.
4. Opening Awareness In Time
In the example above we doubled awareness. We have twice the moments being played back through the system as before. Originally we could view only one play. Now we can view two. The game is full of plays however. Imagine opening up the video hardware to see ALL the plays of the game at once. This would require a play head for each play of the game as shown here: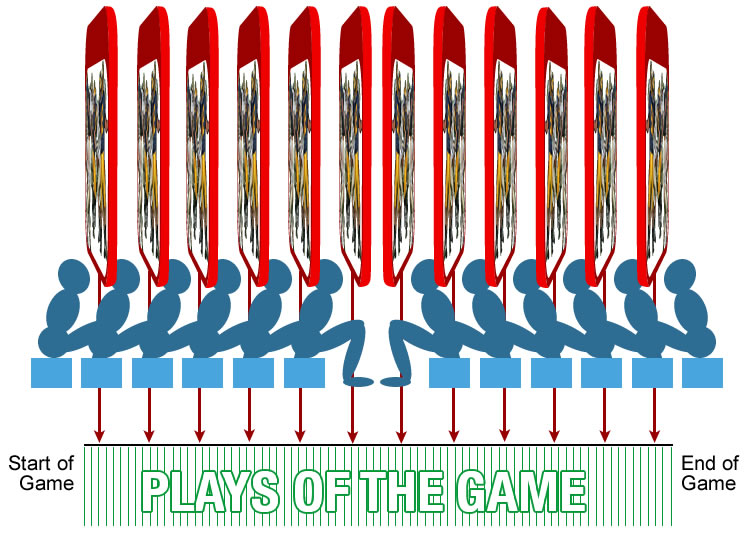 Now we have a monitor and person to experience each play of the game. Collectively they are watching every play of the game at the same time.
This is possible. When video is recorded digitally playing back multiple moments through multiple monitors is possible. Given enough monitors and play heads there is no reason why this cannot happen.
Multiple play heads allows awareness to be everywhere throughout the game simultaneously albeit using several people. To apply this logic to the human condition, we obviously do not have multiple play heads. We have one play head and it is located at the present moment.
The potential of human memory is like the multiple play head machine above. The upper limit of human awareness is a play head for every moment through our lifetime. With all moments of life existing in memory, the upper limit of awareness would be to experience all moments simultaneously. Like the multiple-play-head video machine that has one play head for each play, we are capable of experiencing all moments of life simultaneously. That is the upper limit of awareness with respect to time. We are capable of experiencing all moments of our life simultaneously because all moments of life exist in memory.
VI. Awareness And Memory
1. Collective Knowledge Realized
Thirty people watching thirty different football plays simultaneously represents collective knowledge. It shows how all the plays of the game could potentially be played back at once. That same potential, playing back the moments of our life at once, awaits us at the end of life.
Think of it like this:
1. Imagine recruiting different people to experience each moment your life. You have one person to experience each moment of your existence. You have a separate computer monitor for each person. Exactly like watching each play of the game simultaneously, you have everything all set to go.
2. There are 2,365,200,000 seconds in a lifetime of 75 years. This is an approximate estimate of the number of seconds in a lifetime.
3. Imagine recruiting 2,365,200,000 different people to each experience one moment of your life.
4. Then throw the switch and have everyone experience one second of your life simultaneously.
That experience, the collective experiences of all 2,365,200,000 people happening at one time is the type of thing that awaits us at the end of life. This is probably understated but this is the order of magnitude of potential stored in memory.
2. Afterlife Is An Explosion Of Awareness
Humans move through time. We do not stop in time. Here is what would happen if we could:
1. As we approach the end of life we have everything in memory. We have every moment in memory exactly as it was when we experienced it the first time. This is the potential we carry with us as we move through life. This is the potential we have with us at our last moment of life.

2. At the end of life, time ceases to exist. Awareness is free to go everywhere throughout memory. Memory holds all the moments of life. So awareness is free to go throughout your life. Since memory contains time, what was formally a position in time (now) now becomes all time. We undergo a transition from a moment in time to all of time.

3. Like birth, this transition from a moment to all time, happens in an instant.
Awareness has undergone dimensional change. It has gone from position in time to all of time and it happened in an instant. Awareness did this by expanding into the memories that we gathered throughout our lifetime. Memory contains everything. It absorbed every moment as you experienced it. It retained all moments. We carry these memories with us throughout life. We just never realize them during life. Except for limited remembering we are unaware these memory exists. At the end of life all memories are realized. We become aware of them all simultaneously. A that precise moment we become aware of all our memories at once.
3. Memory And Afterlife
The geometric implications of afterlife should not be overlooked. To see how memory and awareness work together we have to look at geometry. During life we are located at in position located in time and space looking out at the world. This is only half of life. While we are awareness looking out at the world, we are also memory absorbing the universe. Life is made up of both things, memory and awareness.
In terms of geometry awareness is our position in time and space. Awareness is our point of view from where we view the universe. In geometric terms awareness is a point. It has position only. Memory, on the other hand, is time and space. Memory is the space and time surrounding that being. These two things - memory and awareness - make up life. Life is not awareness alone. It is both awareness and memory.
We go through life this way since the beginning. Think of it as a point of awareness surrounded by a time-space of memory. At the end of life nothing changes. The time-space continuum, in our memory, is there with us in the present moment. We carry it into the end of life. At that moment life ceases to exist, awareness explodes throughout memory into all time and space. At the end of life we go from experiencing one moment (the present) to experiencing all of time. In like manner we go from position within space to all space. Not only do we expand through time we expand through space as well. As we go from point of view within space to all space, we do that for all moments throughout life, not just the present. At the end of life we undergo a dimensional change where the smallest possible thing (position within time and space) becomes the largest possible thing (all time and space).
Afterlife is the moment in time when we become everything. It is when the good work of life comes to fruition. Memory is not dependent upon the physical world. Memory is fundamental to life exactly like awareness. The two work together. They are the same thing except one is of a different dimension. Awareness has no length, width, depth, or duration. Memory has unlimited length, width, depth, and duration.They are perfect mathemtical inverses. Afterlife is when awareness makes the transition between the two.
Afterlife is the geometric inverse of what we are now. We are position now. We become everything later. It is too grand, too emotional, and too magnificent to comprehend. This holds true for every one of us. It holds true for all living things.
This concludes proof of afterlife by memory.
---
The Trial Of The Century
I, like every Californian, watched the "Trial Of The Century". The trial spanned eleven months starting with the jury being sworn in at Los Angeles County Superior Court on November 9, 1994. The defendant mounted a defense led by the dream team. They brought in witness after witness. The trial was televised in the US. Both sides went into infinite detail. This drug on daily for almost a year.
When Proof Of Afterlife watches this, we have a different opinion. As the facts unfolded it became obvious the defendant did the bad deed. But they defense kept probing, calling witnesses, cross examining, calling sidebars, postponing and every other legal trick possible. The legal tactic was to draw things out, question everything the prosecution said, and develop an emotional connection with members of the jury.
You could say the defendant was fighting for his life, so why not employ every strategy possible? After all, the defendant was in expert in sports. He knew about defense. So he fought back.
If he wins, did he save his life? If he is acquitted of murder, is that the end of it. Is he exonerated?
The defendant is not getting away with anything. The moment is in memory. It lies up ahead. It is in memory waiting to be experienced in afterlife. Judgment day, the real judgment day, is coming. Even if you convince everyone on the jury, everyone in court, and everyone watching that you're innocent, that judgment does not matter. It does not matter because you cannot convince yourself. You hope it goes away but it will not. Here's what it looks like to go back in time and find that moment to see what really happened.
As you look at this imagine this is going back into memory. Each one of these cans contains a moment, not a day. Each moment, from conception to now, exists here in memory. These aren't copies of moments, as the film cans shown here. These are the actual moments. In the case of the Trial Of The Century that moment exists. If we had the technology we could go back like this, find the exact moment, open it and take a look. Then we could see what really happened.
The notion that the criminal got away with a bad deed because he was acquitted is not true. This whole notion of getting away with a crime is flawed because it isn't the jury that sits in judgment. It is you that sits in judgment. We should not give ourselves permission to do bad things because we can get away with it. The world's judgment is not a criterion that matters. All that matters is what you (and God) think.
Let's say you decided to do something bad and didn't get caught. So that moment gets absorbed into memory. You can argue that I lived thought it once and I can live through it again in afterlife. I can handle it. That isn't how it works. You don't get let off that easy. When you experienced the moment for the first time, you experienced it in life. In life, awareness is a point moving through time. During life, the experience was temporary. Yes, you were uncomfortable for a while but it passed. You move on. It is behind you. You can forget about it.
No you can't. The moment is there, intact. During life you can refuse to remember it. But in afterlife, the second time you experience the moment, there isn't going to be any time. That is a huge difference. Awareness is location within time. Memory is time, everlasting. So what you thought was just a minor blip on the timeline of life comes back amplified. It never goes away. There is no getting beyond it.
We all do bad things. Me too. We cheat a little bit. We lie a little bit. That is not what I'm talking about. I'm talking about doing deliberately harmful acts based on thinking you can get away with it. Like the video shows above, we will be going back and taking a look. You can depend on it.
Understanding afterlife memory-dimension imposes responsibility during life. Do you really want that experience in your everlasting universe? It is a question you should ask.
This isn't a simple straight-line proposition. For example, let's say you know someone who has suffered terribly with an illness. You could conclude that their everlasting universe has been affected due to the suffering. No so. That isn't how afterlife works. Embedded in this is the concept of inverse. Those who suffered illness during life will not only be made whole, they will be ecstatically healthy. Those suffering during life will be rewarded when life turns inside out. Suffering gives rise to the opposite, health and happiness.
If you are poor during life you will be rich in afterlife. If you are lonely during life you will be among loved ones in afterlife. If you are sick in life you will be young and healthy in afterlife. Afterlife is for everyone, animals too. Everything works out perfectly in the end. Life is not meant to be easy. It is a struggle. Afterlife is the reward for enduring that struggle. Afterlife is the ultimate retirement program where you become surrounded by and imbued with joy, friends, health, knowledge, and happiness. Afterlife is the unlimited reward for having lived life.